I've spent a lot of time over the past few years writing about Grant Morrison, talking about Grant Morrison, and making a film about Grant Morrison, and it's now time to continue that work with a series of articles covering Grant Morrison's "Day-Glo Years," syndicated every other week right here on Sequart.org.
In the 1990s, Grant Morrison was undergoing a personal awakening and reinvention, shedding his inhibitions, and setting out on a campaign of personal reinvention that turned a low-key, brown-haired kid into a bald, psychedelic, rock-star bad boy. Along the way, he wrote some of the greatest comics of all time; works that captured a feeling of imminent transformation, of a world on the verge of the millennium, and a future that promised something amazing.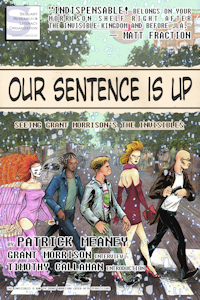 The most ambitious work was The Invisibles, a series which I've already written about in the book Our Sentence is Up (available now from Sequart). It's amazing to think that as he was writing The Invisibles, he was also writing some of the biggest titles in comics and changing the Big Two super-hero universes forever.
Over the coming months, I'll be picking up where Tim Callahan left off in Grant Morrison: The Early Years and analyzing Grant's '90s work. I've spent many, many hours talking with Grant about his life and his work, and I'm eager to go back and read these works in this context. In the process of making Grant Morrison: Talking with Gods, I saw how intensely personal Grant's writing is, and now that I know more about his life, I feel like I'll see the work in a new way.
Frankly, after making the documentary about Grant, I felt like I needed to take some time away from his work. I read his current comics but didn't re-read any of the older books. I had been so immersed in his world, I needed some time away. But, it's been a few years, and now seems like the perfect time to look back.
You may say, "Covering the '90s without The Invisibles? What's left worth reading about?!" Well, there's a lot of great works, including:
Grant's early '90s creator-owned work – The British Invasion comic book writers revolutionized super-hero comics in the late '80s, and soon they moved on to original stories. At the time, comics were still proving their legitimacy as an artistic medium, and works like The Mystery Play and Sebastian O were Morrison's contribution to the growing trend of literary, high-art graphic fiction. At the time, Grant had given up on super-hero comics, and it's particularly interesting to read these short-form, low-key books after he's spent the past twenty years chronicling the adventures of comics' biggest characters, usually in massive, epic stories.
Flex Mentallo – This is the work I'm most excited about covering. It's one of my favorite Grant comics and also one of the most dense and complex. In this work, Grant found a renewed interest in super-heroes, and it has inspired nearly everything he's done since. It's also his most personal and autobiographical story, drawing together memories of his recent past and childhood in a dizzying psychedelic spiral. This is also his first work with his greatest collaborator, Frank Quitely.
JLA – Grant's entry into the super-hero mainstream is a wonderful filtering of his often drug-fueled adventures into stories featuring the most iconic heroes around. It set a new standard for "widescreen" comics and is filled to the brim with wild ideas and concepts.
Marvel Boy – A hyper-dense shot of pop excitement; in a rush of youth and energy, this series captures the excitement of a future coming at us faster than we can handle. It's one of Grant's most hopeful works, even as we can see the roots of 9/11 depression in its images of citywide destruction.
New X-Men – The final work in Grant's day-glo period begins in the utopian haze of the end of The Invisibles, then watches that dream crumble when the drugs don't work and the people promising us a better world turn out to be frauds. I always felt bad about glossing over New X-Men in Talking with Gods since I think it's both an amazing reinvention of a super-hero property and a really personal chronicle of Grant's own collapse into depression and eventual fall into the post-9/11 "abyss" years. It's a series with a particularly tumultuous production history; one that I'm excited to explore.
Along with these major works, I'll be tackling smaller titles like Kill Your Boyfriend, Fantastic Four: 1234, Kid Eternity, and others.
I'll be starting things off in two weeks here with a trip through the early '90s, then moving forward roughly chronologically. So be here for that, and if you haven't seen it yet, be sure to pick up the new two disc SE version of Grant Morrison: Talking with Gods, or if you're tight on cash, watch the film on Hulu!