How to Analyze & Review Comics:
A Handbook on Comics Criticism
edited by Forrest Helvie; introduction by Forrest Helvie; afterword by Andy Schmidt; interview with Brian Michael Bendis, Becky Cloonan, Rachel Deering, FCO Plascencia, Comfort Love, Hannah Means-Shannon, Michael Avon Oeming, José Villarubia, Adam Withers, and Jim Zub; essays by William Allred, El Anderson, Christine Atchison, Laura Braunstein, Harry Candelario, Scott Cederlund, Carolyn Cocca, Fraser Coffeen, Sarah Cooke, Enrique del Rey Cabero, Michael James Griffin II, Jeffrey Hayes, Christopher Haynes, Jason Kahler, Brian LeTendre, A. David Lewis, Ryan K. Lindsay, Christopher McGunnigle, Michael Moccio, Hassan Otsmane-Elhaou, Hervé Saint-Louis, Stephen Sharar, Suman Sigroha, Philip Smith, and Benjamin Towle
2021
ABOUT THE EDITOR
Forrest C. Helvie lives in Connecticut with his wife and two sons where he is chair and professor of developmental English at Norwalk Community College. His literary interests are broad-ranging from medieval Arthurian to 19th-century American, and most importantly, pedagogy, comics studies, and super-heroes. In addition to academic publications, he writes a variety of comic short stories, including his own children's comic series, Whiz Bang & Amelia the Adventure Bear. He regularly writes for Sequart and reviews comics for Newsarama. Forrest can also be found on Twitter (@forrest_helvie) discussing all things comics related.
See more, including free online content, on Forrest Helvie's author page.
Also by Forrest Helvie: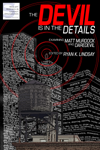 contributor