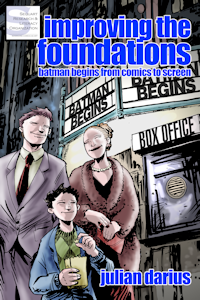 Sequart's Improving the Foundations: Batman Begins from Comics to Screen, by Julian Darius, is now available digitally for 99 cents.
The book studies the 2005 film, tracing how it fuses disparate elements from Batman comics into a single, unified narrative.
As a special promotion, Sequart has set the book's price on Kindle at just 99 cents. The book is also available for $1.99 in the epub format through Goodreads, iTunes, and the NOOK bookstore. (It also remains available in print for $14.99.)
For more information, visit http://sequart.org/books/4/improving-the-foundations-batman-begins-from-comics-to-screen/
Thank you for your support as we make the push into digital in 2012.