We're pleased to release the cover art for Shot in the Face:  A Savage Journey to the Heart of Transmetropolitan, scheduled for a late 2011 release.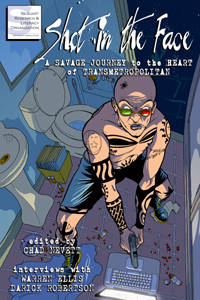 The book, which studies the series by writer Warren Ellis and artist Darick Robertson, is edited by Chad Nevett, with essays by Greg Burgas, Johanna Draper Carlson, Julian Darius, Sara K. Ellis, Ryan K. Lindsay, Patrick Meaney, Jason Michelitch, Chris Murphy, Chad Nevett, Kevin Thurman, Brett Williams, and Sean Witzke.  The cover is by Kevin Colden and uses Spider Jerusalem with permission.
It is part of our Year of Ellis initiative, which also includes Keeping the World Strange:  A Planetary Guide, Voyage in Noise: Warren Ellis and the Demise of Western Civilization, and the documentary film Warren Ellis: Captured Ghosts.