Here at Sequart, 2011 is the Year of Ellis — as in celebrated comics writer Warren Ellis. Throughout the year, we'll be offering three books and a documentary film on Ellis, exploring his major works, his overall career, and why he deserves his status in the top pantheon of comics writers.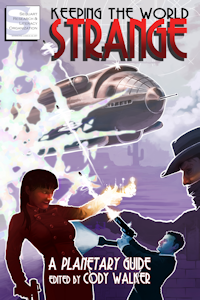 First up is Keeping the World Strange: A Planetary Guide, edited by Cody Walker and studying the work by Ellis and artist John Cassaday.  It features essays by Timothy Callahan (Grant Morrison:  The Early Years), Julian Darius (Improving the Foundations), A. David Lewis, Patrick Meaney (Our Sentence is Up), CBR's Chad Nevett, Ross Payton, Andy Richardson, legendary comics scholar Peter Sanderson, Caleb Stokes, Kevin Thurman, Cody Walker, and others. The book is scheduled for May 2011 publication.
Our second Ellis book is Voyage in Noise: Warren Ellis and the Demise of Western Civilization, authored by Kevin Thurman.  This book examines Ellis's entire body of work for common themes, discovering philosophical perspectives and parallels that illuminate contemporary society.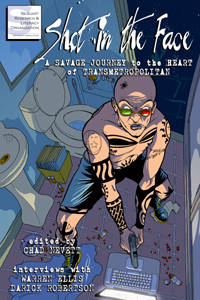 Our third Ellis book is Shot in the Face:  A Savage Journey to the Heart of Transmetropolitan, edited by CBR's Chad Nevett and studying the work by Ellis and artist Darick Robertson.  It features essays by Greg Burgas, Johanna Draper Carlson, Julian Darius, Sara K. Ellis, Ryan K. Lindsay, Patrick Meaney, Jason Michelitch, Chris Murphy, Chad Nevett, Kevin Thurman, Brett Williams, and Sean Witzke.  It's scheduled for a late 2011 publication.
Of course, we also have the documentary film Warren Ellis: Captured Ghosts, directed by Patrick Meaney, with director of photography Jordan Rennert, and produced in association with Respect! Films. It's produced by Amber Yoder, Jordan Rennert, and Patrick Meaney; executive produced by Julian Darius, Mike Phillips, and F. J. DeSanto; and features creative consultant Kevin Thurman. This follow-up to the popular Grant Morrison: Talking with Gods features interviews with Ellis and a plethora of other comics professionals. It's tentatively scheduled for a late 2011 release.
Although 2011 is the Year of Ellis, that doesn't mean we won't also be releasing other works.
In fact, even before any of our Ellis titles, we're offering Classics on Infinite Earths: The Justice League and DC Crossover Canon, authored by Julian Darius. The book examines classic Justice League stories and universe-wide DC crossovers, arguing that they constitute a literary canon.
2011 will see the publication of other, non-Ellis projects.  In fact, we've already got a full slate of books through early 2013, and we'll be making some major announcements in the coming months.
Thanks for your support, and be sure to tweet and post about the Year of Ellis!