We're pleased to release the cover art for Keeping the World Strange: A Planetary Guide, scheduled for May 2011 release.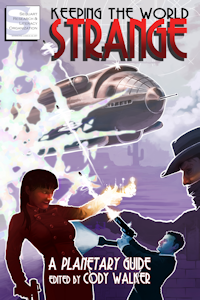 The book, which studies the series by writer Warren Ellis and artist John Cassaday, is edited by Cody Walker with essays by Timothy Callahan, Julian Darius, A. David Lewis, Patrick Meaney, Chad Nevett, Ross Payton, Andy Richardson, Peter Sanderson, Caleb Stokes, Kevin Thurman, and Cody Walker. The cover is by Ean Moody.
The book will run 188 pages and will retail for $19.95.
It is the first release in our Year of Ellis initiative, which also includes Voyage in Noise: Warren Ellis and the Demise of Western Civilization, Shot in the Face:  A Savage Journey to the Heart of Transmetropolitan, and the documentary film Warren Ellis: Captured Ghosts.