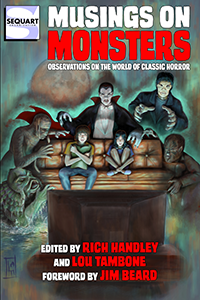 Sequart is proud to announce the publication of Musings on Monsters: Observations on the World of Classic Horror, edited by Rich Handley and Lou Tambone.
As children, we fall in love with monsters, and age often fails to dim that freakish fascination. As adults, we examine our youthful passions with a cold eye, but the awful truth remains: we are eternally "Monster Kids." Musings on Monsters, from the editors of Somewhere Beyond the Heavens: Exploring Battlestar Galactica and From Bayou to Abyss: Examining John Constantine, Hellblazer, gathers together a murderer's row of writers to open the crypt of our childhoods and shine a ray of moonlight on all the creatures, creeps, and crazies of those bygone days of classic horror.
So beware, for such fiends as Dracula, Frankenstein's monster, the Mummy, Godzilla, the Cat People, Barnabas Collins, zombies, and even the Devil himself lurk within these pages, scrutinized by experts in the field of monsterism and laid out on the slab for thorough reflections on their supernatural powers to mesmerize children and adults alike. Join us, won't you? Don't be afraid – your ghoulish guides through this nightmarish landscape are at your side… unless, of course, you step off the path.
The book runs 316 pages, features a foreword by Jim Beard and a cover by Leah Battle. It features essays by Samuel Agro, Corinna Bechko, Joseph F. Berenato, Joe Bongiorno, Greg Cox, Kelli Fitzpatrick, Glenn Greenberg, Rich Handley, Robert Jeschonek, Ross Johnson, Greg Mitchell, Robert Nejman, Charles Rutledge, Frank Schildiner, Robert Smith?, Matthew Sunrich, and Lou Tambone.
Musings on Monsters: Observations on the World of Classic Horror is available in print and on Kindle. (Just a reminder: you don't need a Kindle device to read Kindle-formatted books; you can download a free Kindle reader for most computers, phones, and tablets.) Find out more on the book's official page.